Work in Finland presents career opportunities for Vietnamese talents
Work in Finland presents career opportunities in Finland at several events from October 25th –December 8th. Come and meet our team!
Press release 24.10.2023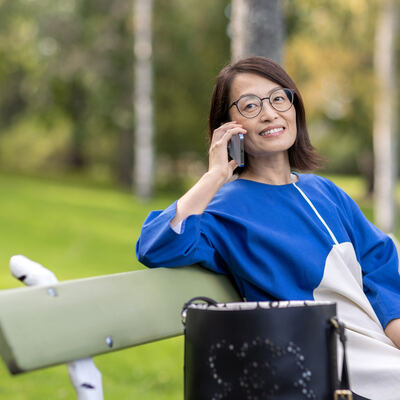 Photo credit: Marjaana Malkamäki
Whether it's a dream job in tech, turning an innovation into a flourishing start-up, advancing your career with academic study, or seeking a healthier work-life balance in the "happiest country in the world" – Finland encourages Vietnamese tech talents and their families to find out the secret to Finland's happiness and explore career and living opportunities in our beautiful country.
The Work in Finland team at Business Finland (an organization for financing innovation and promoting trade, travel and investment) will be showcasing career opportunities in Finland for Vietnamese talent between October 25th and Dec 8th at several events – such as Open innovation day, Techfest, and Vietnam Web Summit.
"We are excited to be part of several events in Vietnam as the Work in Finland team. At our Finlandworks booth, we will showcase Finland's unique work culture, career opportunities and the Finnish cities such as City of Espoo", says Van Anh, Talent Manager at Business Finland's Work in Finland unit.
HAPPINESS
Finland is a top destination for those who want to invest in their careers and well-being. For the sixth year in a row, The United Nations' World Happiness Report 2023 rated Finland the happiest country in the world.
According to Riikka Hirsto, Head of Marketing at Work in Finland unit at Business Finland, "the country's healthy balance of work and leisure offers many opportunities to build a career while also enjoying the high standard of living Finland has to offer. Family well-being and equality are values universally upheld by Finnish society – and they are also embedded in workplace policies and culture. Healthy balance of work and leisure also offers many opportunities to enjoy the country's unique and clean nature".
Come and meet the Work in Finland team and learn more about Finland at the Finlandworks booths. The Work in Finland team will be joining the following events in Vietnam with their own booth.
Open Innovation Day
TECHFEST VIETNAM
VIETNAM WEB SUMMIT 2023 and Work in Finland – Side Event on 5th December
Visit our website to discover open jobs and events that the team is organizing and taking part in while in Vietnam. www.workinfinland.com
Senior Director, Head of Work in Finland Laura Lindeman
Talent Manager, Work in Finland Anh Le
Head of Marketing, Work in Finland Riikka Hirsto