Finland is leading the way with advances in solutions that will help companies optimize emissions and achieve their carbon transition goals
Decarbonizing heavy industry is a global issue of significant concern to humanity that needs to be urgently addressed. Reaching carbon targets requires sizeable reductions in emissions in every industrial sector. Companies across Europe are feverishly looking for ways to reduce CO2 emissions, and Finland has expertise and pioneering solutions in decarbonizing industries and creating more sustainable value chains that are already available.
Press release 15.6.2023
For the past three years, Europe has focused on coping first with the pandemic and then with the energy crisis and inflation caused by Russia's invasion of Ukraine. As industries battle with the daily realities of disrupted supply chains, economic uncertainty, complex regulatory changes and rising energy costs, emission targets may well take a back seat.
But the volume of emissions remains massive in the industrial sector and the problem should be dealt with – now. The 2021 IPCC report warns that global warming of 1.5°C and then 2°C will be exceeded during the 21st century unless sizeable reductions in carbon dioxide (CO2) and other greenhouse gas emissions occur in the coming decades.
At the same time, people around the world care more than ever about the climate and nature. According to the Ernst & Young Future Consumer Index 2021, 49% of consumers prioritize the environment and consider climate change in the way they live and the products they buy.
"Companies have the challenge of performing during global economic uncertainty without compromising ESG values and regulatory expectations. Brands' reputations are on the line. Meeting climate goals will require all industrial sectors to make a fundamental shift from CO2 intensive processes to more sustainable value chains. Finland already has commercially viable solutions and innovations available. If companies around Europe make the right decisions now, we will be able to navigate through these turbulent times," explains Marika Ollaranta, Head of the Decarbonizing Industries Program at Business Finland, Finland's trade, investment and travel promotion and innovation funding organization.
Finnish businesses have long been forerunners in providing proven decarbonizing solutions across various industries. Leading Finnish experts including AFRY, Gasmet Technologies and Valmet offer methods that are already applied in practice worldwide.
AFRY is a Swedish-Finnish supplier of engineering, design, and advisory services, with a global reach. Working to improve energy efficiency, AFRY supports the process industry sector with top-level process technology knowhow combined with local presence.
"Already today, production plants of all ages can be optimized to emit less CO2 quickly and cost-effectively by improving process efficiency. Modifications will improve overall efficiency by several percent and for older plants, if the customer is prepared to invest, we are talking double-digit figures," explains Jarkko Kutvonen, Director, Paper & Board Technology, AFRY.
Gasmet Technologies designs and manufactures world-class gas analysis systems and emission monitoring solutions to measure gaseous emissions from industrial processes. The company has successfully delivered over 6,000 gas and emission monitoring systems all around the world.
"Reliable emission measurement helps to understand and verify what and how much emissions a facility is producing, and whether the investments to reduce emissions are producing improvements. Emissions cannot be lowered without measurement. Measuring emissions is most often compulsory to meet the local regulations but nowadays companies want to act transparently towards their stakeholders, for example customers, investors and the community where they operate," says Nenne Nordström, CEO, Gasmet Technologies.
Meanwhile, Valmet Oyj is a leading global developer and supplier of process technologies, automation and services for the pulp, paper and energy industries. Valmet has launched a new R&D and innovation program, Beyond Circularity, which aims at further strengthening its R&D work for utilizing renewable materials and recycled, waste and side streams, ultimately improving its readiness to support the green transition.
"Further to the various material flows becoming fully circular, we expect the level of the autonomy of mill or plant operations to increase in the next five to 10 years. Within the Beyond Circularity initiative our aim is to enable major leaps towards autonomous mills and further improve energy efficiency and reduce emissions. Another focus area is the development of lifecycle services concepts, taking into account critical indicators such as technical age, emissions, energy consumption, and water use. In all of this, data and the transfer of data is crucial," says Valmet's Vice President of Research and Development Janne Pynnönen.
The program is partly funded by Business Finland through the EU's Recovery and Resilience Facility (RRF) and is part of the "Veturi" leading company initiative, where international companies are invited to solve some of society's most pressing challenges through increased research, development and innovation investments in Finland.
Finland's objective is to become carbon neutral by 2035 and the country is leading the way to a zero-carbon future by boosting innovations and long-term business opportunities globally. Finland was the first country in the world to launch a carbon tax already in the 1990s. This has pushed Finnish industry sectors to seek out low-carbon solutions. In addition to creating the world's first circular economy roadmap, 14 Finnish industries have introduced their own low-carbon industry roadmaps.
FURTHER INFORMATION
Marika Ollaranta, Head of Decarbonizing Industries Program, Business Finland, marika.ollaranta (at) businessfinland.fi, +358 50 480 4611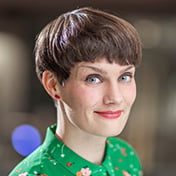 Head of International PR & Media
Salla Salovaara
salla.salovaara (at) businessfinland.fi
+358 40 526 0100