Super engineers, assemble!
More and more, Finland is known as "the land of the super engineers" – and a new study lends credibility to the notion. The TechSkillsAtlas 2023 study shows that the engineering muscle is in fine form in Finland – and still gaining momentum.
News 12.7.2023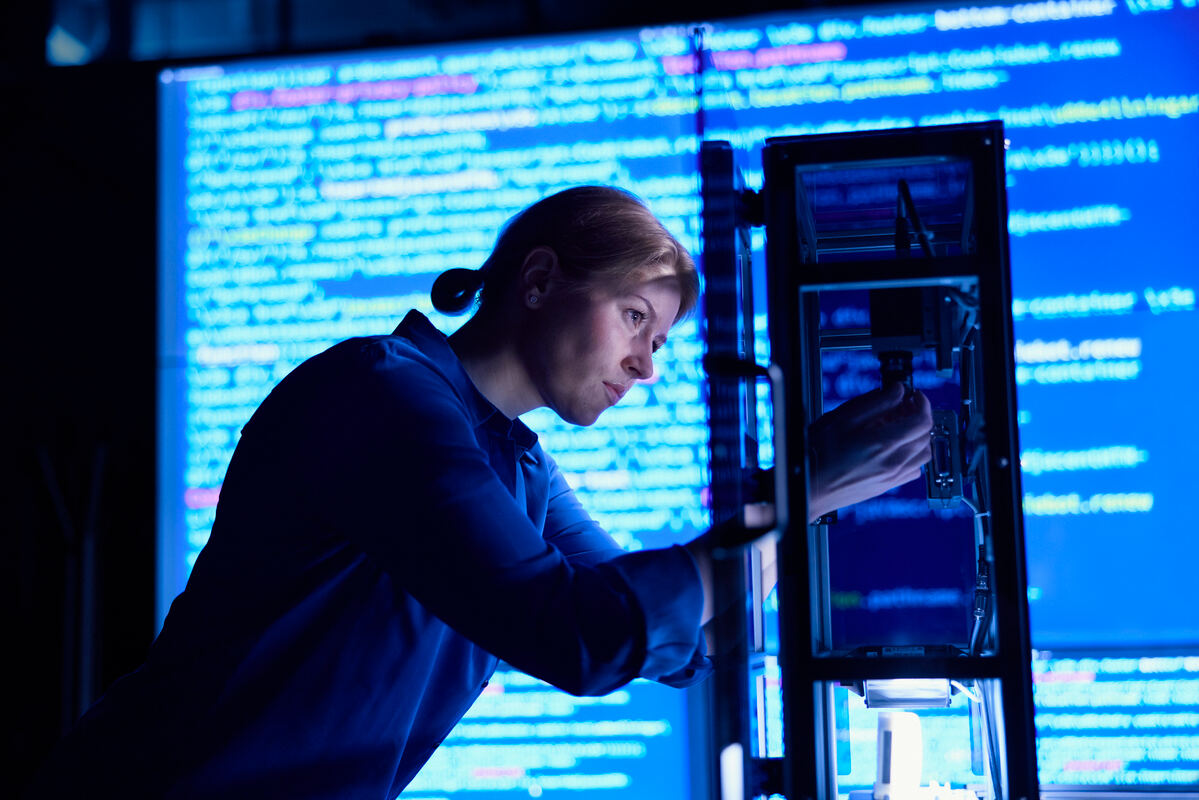 Finland's engineering talent pool is deep and wide – with surprising "pockets" currently left untapped.
Designed by the international consultancy MCJ Lemagnen Associates, the new study focuses on three areas: ICT, Engineering and Healthtech. All of these sectors boast exceptional talent pools, with skill sets few countries can match.
Michel Lemagnen, CEO of MCJ Lemagnen Associates, says that Finland's engineering prowess boasts a strong foundation. "Finland has a rich and diverse engineering heritage and talent base," he says. In fact, as many as 12% of Finns currently work in an engineering role – and another 10% have worked in an engineering role in the past.
16 deep specialties
With a core resource of 301,000, Finland has a regular army of engineers at her disposal. Major specialisms include electronic & electrical, manufacturing, mechanical and civil engineering, Lemagnen explains.
"There are also world-class niche areas in automotive, shipbuilding, telecoms, mining as well as forestry and paper industries," he adds.
The study finds that in 16 specialisms, there are core resources of 10,000 or more professionals across the country. "Core engineering professionals typically have good technical know-how of other fields, such as IT and cleantech –one in three also have technical ICT skills, one in four have technical expertise in cleantech."
Nationwide engineering edge
According to the study, 31% of the engineers live in Helsinki-Uusimaa Region, while 30% live in Western Finland. "There are pockets of experts all around Finland – for example, the strong shipbuilding cluster in Southwest Finland attracts engineering talent." The Meyer Turku shipyard, for one, is known for building the finest cruise ships in the world.
"Looking at the engineering qualification, 63% of the resource have at least bachelors' education and 30% have vocational qualifications, so there's a nice mix of hands-on and hands-off professionals – not that the 'can-do' Finns mind rolling their sleeves up!" says Lemagnen.
The perfect mix of energy and expertise
The talent pipeline is firing on all cylinders as well, producing 26,500 engineering education tertiary and vocational graduates per year – providing the new blood needed to support the veteran savvy. According to the study, almost one third (32%) of the engineering resource have worked in an engineering role for less than five years – while more than half (53%) has been in the business for more than 10 years.
"Engineering continues to attract younger talent, as 36% of the resource are aged 18-34," says Lemagnen.
Buried treasure?
Still, the study finds that there is a "hidden gem" ten times the size of the graduate number out there. "Engineering has tremendous untapped potential amongst the lapsed resource," Lemagnen says. "Lapsed resource" means, in this context, people who have worked in an engineering role in the past.
"The total engineering resource in Finland is around 547,000 – but 273,000 are no longer working in technical role."
Get back!
So there are thousands and thousands of engineers out there that do not presently work in a technical engineering role – but they are employed, in some other area. "Only about 9% of the lapsed resource – around 25,000 people – is currently unemployed," says Lemagnen.
"The vast majority of the lapsed resource is active in working life and could conceivably be persuaded to return to engineering – which would empower the field even further."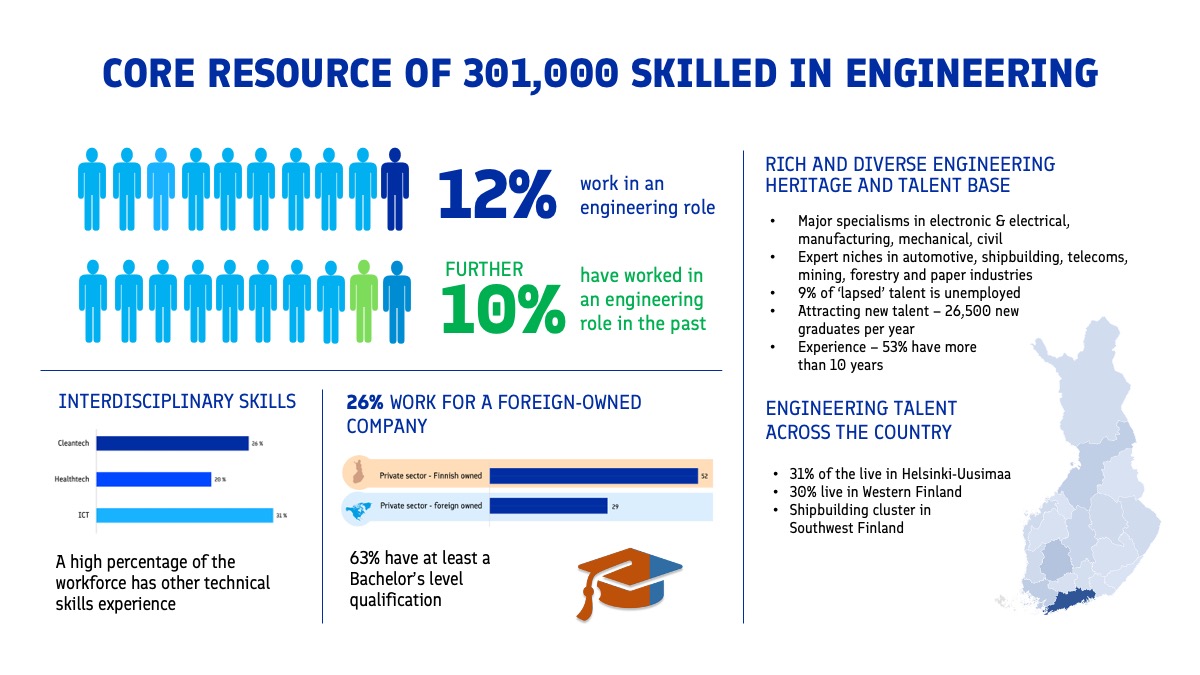 TechSkillsAtlas™ Finland 2023
TechSkillsAtlas™ is a technical skills measurement method by MCJ Lemagnen Associates

methodology was originally designed, tested and developed by CEO Michel Lemagnen in 2006
MCJ Lemagnen Associates is UK headquartered, independent consulting and research firm, specialising in the fields of foreign direct investment and trade, economic development and research
The TechSkillsAtlas™ fieldwork in Finland was carried out by MCJ Lemagnen Associates' Finnish and global fieldwork partner Kantar Oy, part of the world's largest insights company
TechSkillsAtlas™ covers highly specialist technical skills, focusing on what people do now in their work and what they did in the past
offers robust statistical information based on a quantitative, nationally and regionally representative web-based survey
4,400 interviews conducted across mainland Finland; age range 18-64
includes employed, self-employed and unemployed persons
TechSkillsAtlas™ Finland 2023 was co-funded by Business Finland and Helsinki Partners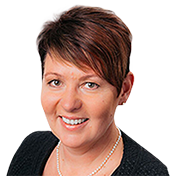 Senior Advisor, Market Intelligence Kaija Laitinen
Engineers fuel innovation
Why Finland is constantly ranked among the most innovative and digitally-focused countries in the world? Dive deeper into the land of engineers with our podcast episode, and learn more on how companies benefit the culture of innovation.