Information Age pioneers going strong
Believe the hype: Finland is still the hi-tech superpower it's cracked up to be – with plenty of momentum still left, too. According to the newest comprehensive TechSkillsAtlas™ 2023 study, it seems evident that Finland remains solid in all things tech and continues to improve in key areas. What's more, Finland is also getting better at re-engaging with its tech talent pool.
News 14.6.2023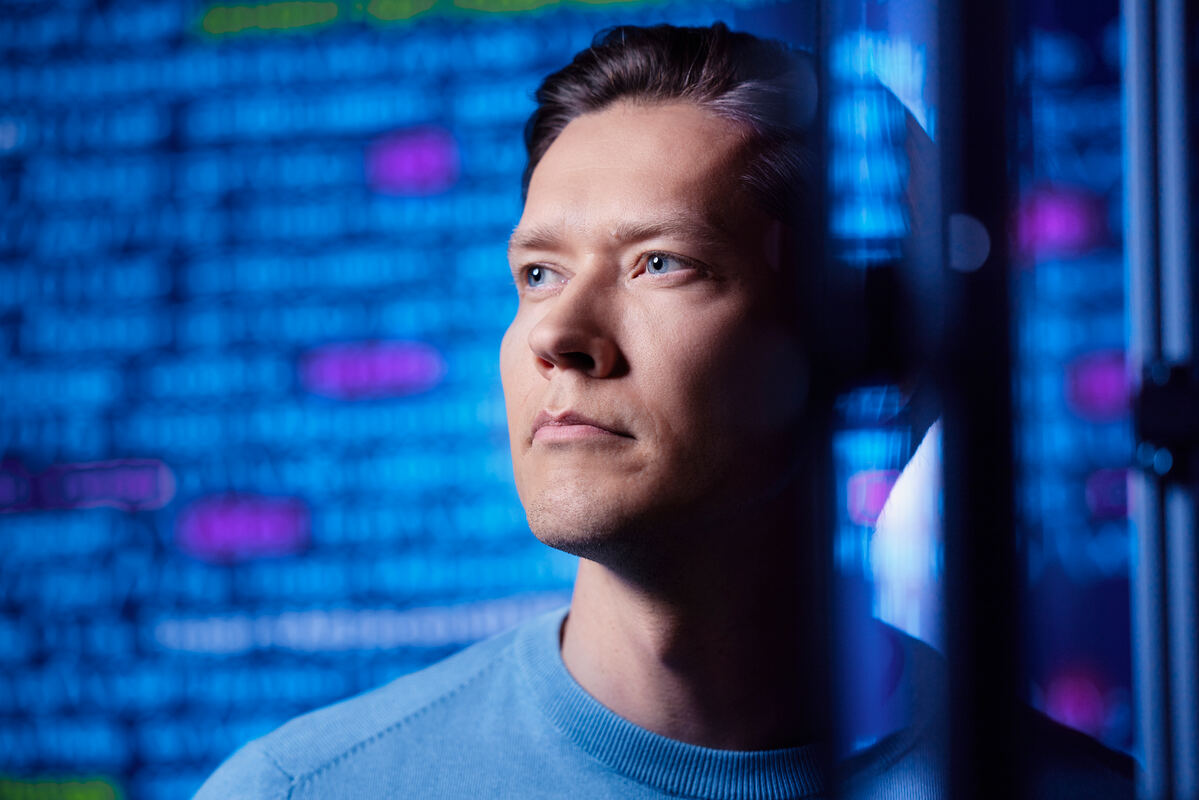 ICT skills report deep dive confirms Finland's status as a digital powerhouse.
Designed by the international consultancy MCJ Lemagnen Associates, the TechSkills Atlas study focuses on three skills areas: ICT, Engineering and Healthtech. All of these sectors boast exceptional talent pools, with specialist expertise that is the envy of countries across the world.
Nowhere is this more apparent than in ICT, where Finland ticks all the "digital talent boxes" out there. In addition to "mainstream IT" such as systems and coding expertise, Finnish IT professionals are well versed in game design, database development, cybersecurity, networks, mobile apps...not to mention alluring newcomer fields such as AI, AR & VR, digital health and blockchain.
Master the code
Michel Lemagnen, CEO and co-founder of MCJ Lemagnen Associates, says that in coding alone, the Finnish talent pool is deep and wide: "82% of current ICT professionals have advanced coding skills. Presently, there are ample skills available across a wide range of application".
The ICT sector certainly seems robust enough: there's a core resource of 234,00 technical ICT professionals currently working in a technical role in the country. As much as 17% of the workforce in Finland has technical ICT skills, with Helsinki-Uusimaa as the largest hub of digital prowess (47% of ICT experts live in the region).
"Despite the leading role of the Helsinki-Espoo-Vantaa area, ICT resources are growing across the country, spurred on by superb connectivity and the rising popularity of remote and hybrid working," adds Lemagnen.
Comeback in the making?
Right now, almost one in ten Finns (9%) work in a technical ICT role, typically in the private sector. However, a further 8% have worked in a technical ICT role in the past – and the report suggests that at least some of them could well be planning a comeback.
"There is clearly untapped potential amongst lapsed resource," says Lemagnen. "Lapsed resource" means, in essence, persons who have worked in ICT skills role in the past.
The lapsed resource in ICT amounts to 219,000 presenting a powerful reserve force for the sector – if those individuals can be persuaded to come back. Lemagnen is hopeful that they might: "43-50% of the lapsed resource in the three areas of our study – ICT, engineering and Healthtech – is interested in working in a technical role again. The interest is the highest amongst former ICT professionals, especially those who are unemployed."
Upgrade your skill set
The study reveals that the overall ICT resource has grown by 12%, since the end of 2020 while the lapsed resource has slightly declined. "This means that lapsed talent has, indeed, been attracted back into technical roles, which is a very positive finding," explains Lemagnen.
Lemagnen notes that the interest level generally perks up if there's training support available for upgrading one's skills. "Finland has a great track record in such programs, which means that comeback is a viable – and certainly desired – option."
In fact, according to the study, unemployed ICT professionals are 2.5 times more likely to be "very interested" in working in a technical role again than other lapsed tech professionals. "The pull of ICT is the strongest which bodes well for the future."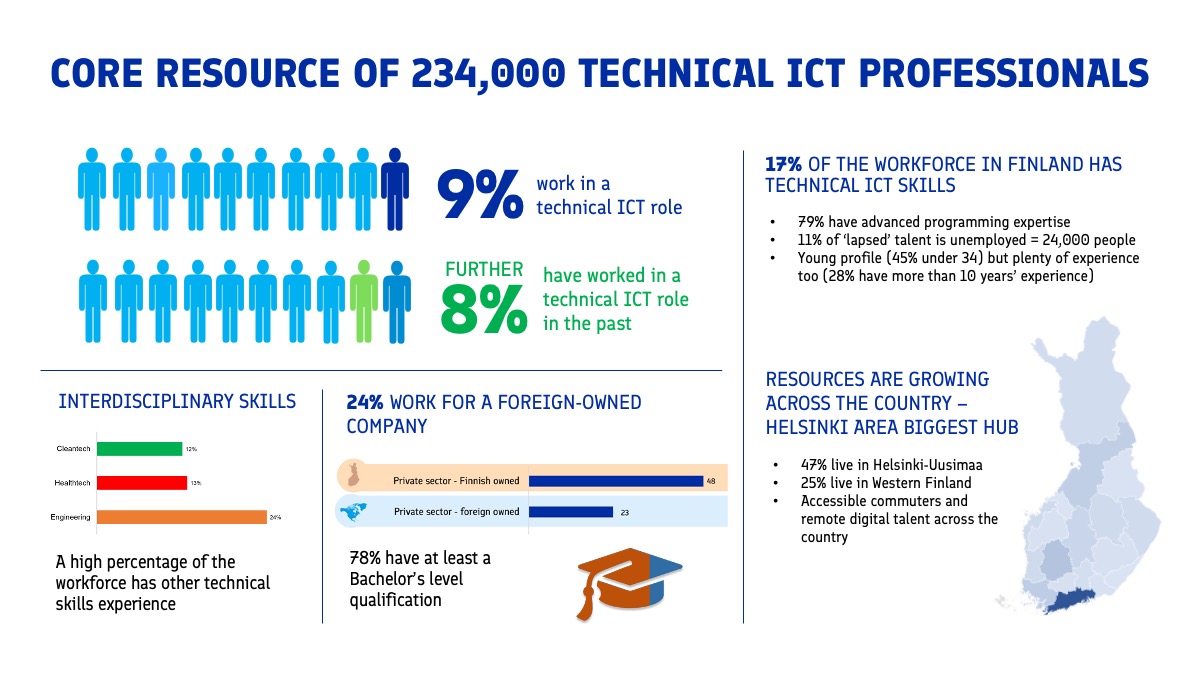 TechSkillsAtlas™ Finland 2023
TechSkillsAtlas™ is a technical skills measurement method by MCJ Lemagnen Associates

methodology was originally designed, tested and developed by CEO Michel Lemagnen in 2006
MCJ Lemagnen Associates is UK headquartered, independent consulting and research firm, specialising in the fields of foreign direct investment and trade, economic development and research
The TechSkillsAtlas™ fieldwork in Finland was carried out by MCJ Lemagnen Associates' Finnish and global fieldwork partner Kantar Oy, part of the world's largest insights company
TechSkillsAtlas™ covers highly specialist technical skills, focusing on what people do now in their work and what they did in the past
offers robust statistical information based on a quantitative, nationally and regionally representative web-based survey
4,400 interviews conducted across mainland Finland; age range 18-64
includes employed, self-employed and unemployed persons
TechSkillsAtlas™ Finland 2023 was co-funded by Business Finland and Helsinki Partners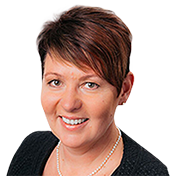 Senior Advisor, Market Intelligence
Kaija Laitinen
kaija.laitinen (at) businessfinland.fi
+358 40 822 0613