Invest in Finland hits 30
In 2022, Invest in Finland is celebrating its 30th anniversary. While the past three decades have been very eventful, one thing has not changed: Invest in Finland's (IIF) mission to promote Finland as a business location, attract foreign direct investments (FDI) and to support foreign companies to prosper in Finland, remains as solid as ever.
News 19.5.2022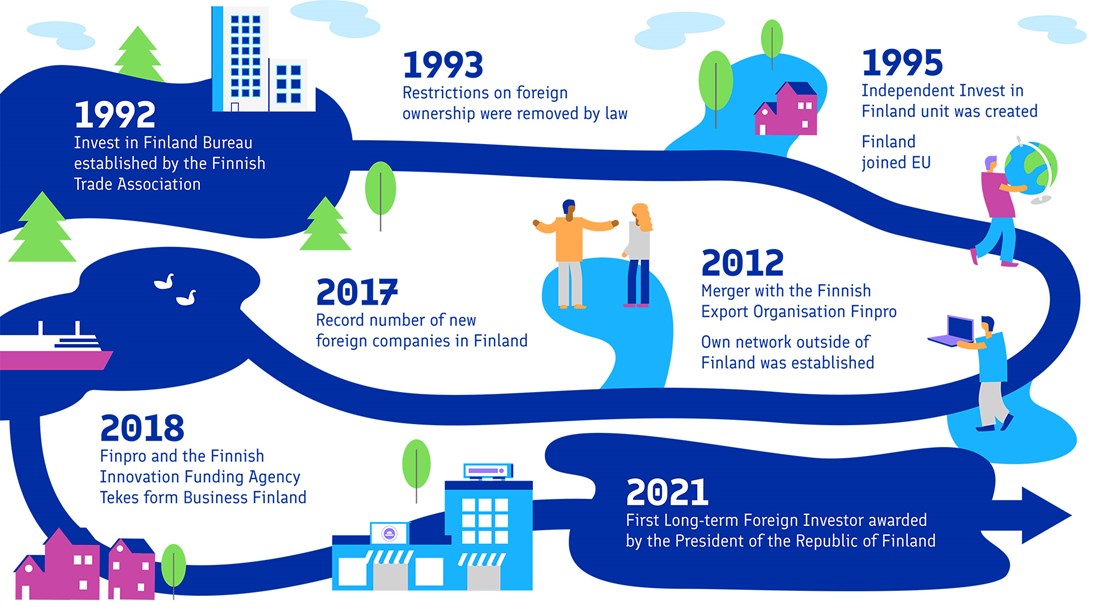 How did it all start, then? Well, back in 1992 Finland was in the throes of a deep recession – and coming to grasps with the importance of foreign investments. As a consequence, a new actor was needed to run point on securing FDI – and thus, Invest in Finland Bureau was born on May 4, 1992.
The times were, however, quite different back then: for example, Finnish legislation actually restricted the ownership of foreigners at the time. As a new, more welcoming law came to effect in 1993, this really opened the doors to foreign investment. Today, Finland is one of the least restrictive countries in terms of foreign investment.
Growth x 10
In 30 years, the number of foreign owned companies operating in Finland has grown ten-fold: In 1992, there were a total of 429 foreign-owned companies in Finland, while in 2021 there were 4,400. The increase in both turnover and number of personnel shows, in essence, the same pattern.
Sari Toivonen, Senior Advisor whose 22-year career with the organization started in 2000, says that during the first decade of operating, Invest in Finland's activities were still rather small-scale, with little network support.
"Twenty years ago, we were still looking for investors for Finnish companies, and our work was more about raising Finland's profile in general," she says.
The core of the work is still the same – but much has changed, too. "The networks have grown and now we are part of Business Finland and Team Finland. The customers are still the best part of the work – and you have a front-row seat to the development of business in Finland," Toivonen sums up.
"Best job I ever had"
Timo Antikainen joined Invest in Finland in 2009 as Business Development Director. He stayed on until 2014 and is currently the Business Director for the City of Tampere. He looks back at his five-year stint very fondly: "The working environment was excellent and the working community was very energetic and motivating. In fact, looking back at my career of 40 years, I would say that Invest in Finland was the best job I ever had," says Antikainen.
Running a team of about 1o people, Antikainen zeroed in on making the rounds among potential investors, frequently travelling to the USA, for example. "The key thing during these visits was to get the companies to commit to visiting Finland. Once they saw what Finland was all about, they were that much closer to setting up business here."
IIF was lobbying the Finnish government to get tax breaks for foreign data centers – succeeding in the task too.
Getting Google to launch a data center in Hamina, Finland, in 2009 was a big win for Invest in Finland – and data centers have remained a big priority. "We were lobbying the Finnish government to get tax breaks for foreign data centers and eventually we succeeded in this, too."
Good image pays off
Irina Blomqvist joined Invest in Finland in 2011 and stayed for three years, working closely with Antikainen to build the customer potential.
"It was a real hands-on operation, where we first figured out what the customer needs and then explained to them, how Finland can help the company do better business in the future," says Blomqvist who presently heads the joint-venture team on Innovation and Entrepreneurship Services at the University of Helsinki.
Finland has a great reputation as an innovation nation.
She remembers that those three IIF years were full of travel and meetings, and engaging in dialogue with companies around the world. "We found out that Finland does have a great reputation as an innovation nation, and, as a consequence, it wasn't that hard to land a meeting," she says, adding that in South Korea, for example, the hosts were very keen on hearing what she had to say.
"Eventually, such South Korean companies as LG and Samsung did launch R&D innovation centers in Finland."
The art of the pitch
Atso Vainio worked at Invest in Finland for over ten years, from 2000 to 2012, running e.g. investments, business development and networks during his time. Presently serving as the Mayor of the City of Uusikaupunki, Vainio holds great memories from the early 2000s.
"The Invest in Finland team had then – as I'm sure it does now, too – so much talent and expertise which was vital for our success," he says, adding that amazing colleagues are the thing he misses the most.
"In addition, I found that it was very exciting to meet with the top management of foreign companies and tell them what Finland had to offer."
A 20-minute courtesy visit can turn into a serious 60-minute session.
In high-level meetings, time was limited and the pitch had to land just right. Vainio says that a 20-minute courtesy visit could turn into a serious 60-minute session, if the customer became intrigued: "If we could show them, that we understood their business and the development opportunities there in, the meeting could easily run a lot longer than originally scheduled," Vainio smiles.
Full steam ahead!
Today, the Finnish economy is robust and the Finnish innovation ecosystem is in record-breaking form. Such credit rating agencies as Fitch Ratings and S&P Global Ratings give the country top marks, and foreign investors know that the country is solid politically, economically and even geologically (no earthquakes).
Antti Aumo, Head of Invest in Finland, points out that although inflation has clearly accelerated in Finland as well, the rise in cost levels is more moderate than in most other EU countries. "The companies investing in Finland have found out that Finland is no longer an expensive country when compared to the rest of Europe," Aumo says.
Since the launch of the euro over 20 years ago, prices have risen less in Finland than elsewhere and the country's relative purchasing power has improved. "Investing in Finland was the smart thing to do 30 years ago – and it's even smarter today," he says.
The Invest in Finland Bureau, founded in 1992, merged with Finpro, which specializes in export promotion, in 2012. Finpro merged with Tekes into the current Business Finland in 2018. Invest in Finland turned 30 on May 4, 2022. This article is the first part of IIF 30th Anniversary series.