Going the extra mile for our customer
What are the building blocks of the Invest in Finland culture to deliver top services for the customers? Five members of the Invest in Finland tribe talk about their time with the organization – and share their best recipes for success.
News 28.9.2022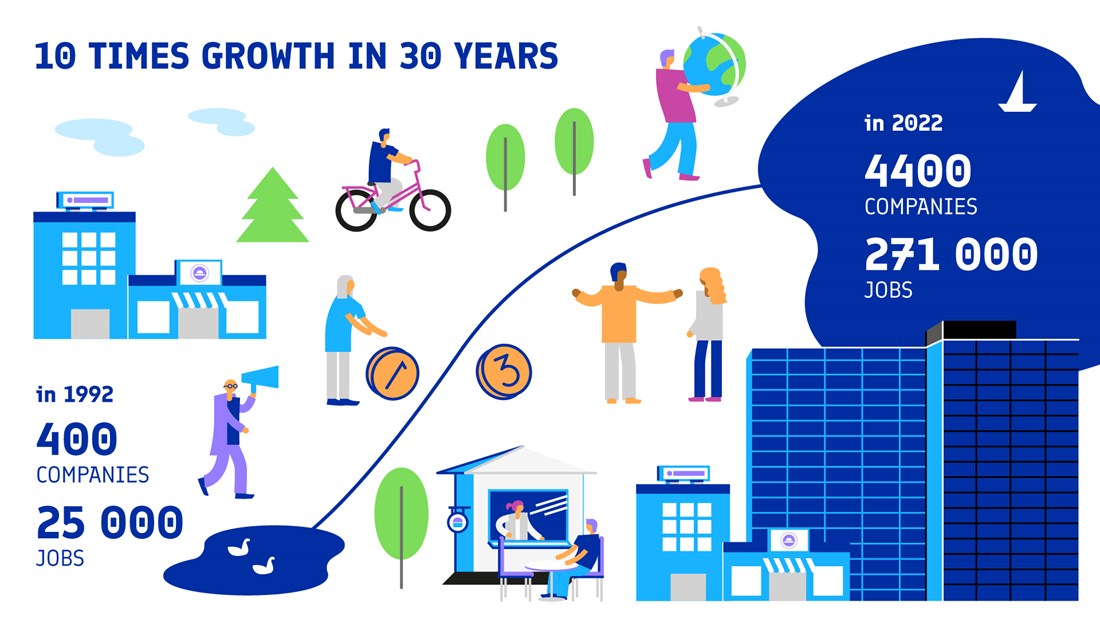 Toni Mattila is the Head of Sustainable Manufacturing Program at Business Finland. He served as Senior Director, Investment Consulting, at Invest in Finland, from 2013 to 2018. Mattila's main area of responsibility was Foreign Direct Investment (FDI) promotion, consultation and account management of research, development and innovation clients. "I focused especially on companies operating in the information and communication technologies, data centers, electronics, or ICT assisted health & wellness sectors," he says.
Looking back, Mattila says that the establishment of Huawei's R&D Center in Helsinki was the clear highlight of the era. The hi-tech ICT giant made its €70 million investment over a five-year period in 2012-2017. The cutting-edge R&D center became a key driver in Huawei's research and development of new technologies for mobile devices. "Huawei really started a trend where international hi-tech innovators look to Finland to boost their R&D operations," Mattila says.
Brain power wins the day
Toni Mattila credits the Finnish education system for "laying the groundwork" for the success of innovative R&D operations – as there is plenty of brain power available in the country, big foreign companies are certainly taking note. "Invest in Finland provides great service for companies, making sure that they get all the information they need to make their establishment decision."
Quite often, the establishment projects were lengthy ones, with multiple visits to Finland, Mattila reminisces. "During these visits, also the expertise of regional business development companies was very valuable in winning the companies over," he says, adding that success in these cases is never due to a single person or two.
Playbook with flexibility
Working at Invest in Finland, Mattila says that the organization had developed a very nimble playbook which revolved around openness, honesty and flexibility. "With our commitment to speed, we were, for example, able to launch a fast track for our high impact success cases." Similar fast track was later created for key talent of international startup companies.
Mattila looks back on his years with Invest in Finland with fondness and pride. "We were promoting Finland to our clients in an environment were everybody really supported each other. It was a very professional and systematic way of sharing the ups and downs of the job."
Innovation Nation in the making
Arto Pussinen is the Senior Director, Innovation Ecosystems, Platforms, at Business Finland. During 2015-2020, he manned a similar post at Invest in Finland, spreading the good word of hi-tech Finland to top foreign companies.
"That period was challenging, because Nokia was no longer the giant player it had been and it seemed that everybody was just scrambling," he looks back. "On the positive side, a lot of great talent became available on the job market and international companies were naturally interested in recruiting them."
Major corporations were visiting Finland frequently during that time, and Pussinen served as a host on many of these fact-finding missions. Already, the reputation of Finland as the Northern technology superpower was pretty well established, but sometimes the visitors were surprised nevertheless. Pussinen talks about a CTO from a major Spanish company who visited Oulu, the innovative tech hub of Northern Finland.
"The CTO met with Oulu companies and other parties, and as we headed back to the Airport, he shook his head and said that the entire city was like one big tech university campus, with just naked technology everywhere," Pussinen looks back with a smile.
Hot & cold
Another Oulu story involves hosting top management from a South Korean tech giant and taking them – of course – to sauna. "They were hesitant to go at first, but in the end, we couldn't get them out of the sauna." Similarly, the guests were swimming in the local Oulu river with such abandon that the hosts were starting to worry about safety issues. "It was August and the water in the river wasn't exactly warm."
Pussinen enjoyed his stint at Invest in Finland, largely because of the great Invest in Finland team. "I felt that the working culture at Invest in Finland was all about being innovative and quick on your feet to find the right solutions for the customer," he says. "Everybody in the team held the same mindset which meant that we could move very fast and be effective, when we needed to be."
Hi-tech heaven
Kaija Laitinen, Senior Advisor, Market Intelligence at Invest in Finland, has been with the organization for 18 years – and seen Finland become a lot better known along the way. As Finland has started racking up the top spots in all kinds of surveys and studies – targeting just about everything from happiness to stability and ICT savvy – big companies around the world have started to pay attention.
"Previously, it could be that Finland was not even in the consideration, because nobody knew about our country. Now it seems that Finland is more often on the short list of countries where it makes sense to set up hi-tech operations," Laitinen says.
Supreme support
Still, for Invest in Finland the work has remained largely the same: helping the international companies – interested in coming to Finland – in any way they can. Laitinen points out that the 360° service package offers a wealth of support, from finding out technical requirements for a plant-to-be to helping international families with kids to find proper schools.
"Business decisions often revolve around technical and financial issues, that goes without saying, but we take pride also in our soft landing services with our network in Finland."
When worlds collide
Looking back at her almost two decades with Invest in Finland, Laitinen picks out one final "unique selling point" that Finland has to offer. "I've found that the innovation environment – where the corporate and academic worlds come together for best results – is quite unique. That collaboration is more flexible and diverse than anywhere else."
Ultimately, for Invest in Finland, the secret of success lies in dependability. "For our clients, we provide objective information that they can rely on, no matter what. In today's FDI environment, that's not always given."
Digital edge
Kirsi Kokko is the Head of Digital Trust Finland Program at Business Finland. Her previous stint with Invest in Finland ran from 2015 to 2017 as she served Senior Advisor and Local Team Head, helping e.g. international customers in ICT field to land their business in Finland successfully. Now, as Kokko works with themes such as cyber security, public safety & critical communications and fintech, she feels the job is still very much about getting foreign direct investments to Finland.
"Establishing operations and funding innovation are important with Digital Trust Finland, too. For example, if there is an international company with focus on cyber security, we can introduce that company to the Finnish cyber ecosystem and see if partners can be found," Kokko says.
Open eyes, open minds
Looking back at her time with Invest in Finland, Kokko says that understanding the needs of the customer was always paramount. "Sometimes the customer's focus would shift along the way and you'd have to adapt quickly – for example, a customer could come in asking about the Finnish marine ecosystem and then pivot to critical communications," she says.
In responding to customer's needs, "homebase knowledge" is vital. "I feel that at Invest in Finland, people are always highly knowledgeable – and what they don't know, that'll find out soon enough."
Everyday something new
Hanna Lankinen is the Head of Health & Travel Industries at Invest in Finland, having started her Invest in Finland journey already in 2010. She says that no two days have been alike: "It has been a real pleasure working with companies of all sizes, representing every conceivable industry, from all over the world," she says. "Being part of identifying interesting business opportunities for the customers and solving their possible problems, big and small, is super rewarding."
In addition, Lankinen speaks fondly of the collaboration with Finnish cities and regions: "When you're talking about FDI, the role of communities is vital – and we've been fortunate to enjoy such close collaboration with cities and regions."
During the past 12 years, the international profile and recognition level of Finland has obviously risen – for example, Finnish hi-tech companies and ecosystems have made quite a name for themselves. "Also the commitment by the Government to boost education and R&D has not gone unnoticed abroad," she believes.
See how we can help you company to grow in Finland
The Invest in Finland Bureau, founded in 1992, merged with Finpro, which specializes in export promotion, in 2012. Finpro merged with Tekes into the current Business Finland in 2018. Invest in Finland turned 30 on May 4, 2022. This article is the third part of Invest in Finland 30th Anniversary series.