Finland at MOVE America 2023 Exhibition and Conference
Business Finland together with Finnish regional development agencies is attending the MOVE America in Austin, Texas, showcasing what Finland has to offer for companies who are looking to partner with or invest in new mobility related technologies to enhance and grow their businesses. Meet us at Finland Pavilion, 1243.
Event 26.9.2023 - 27.9.2023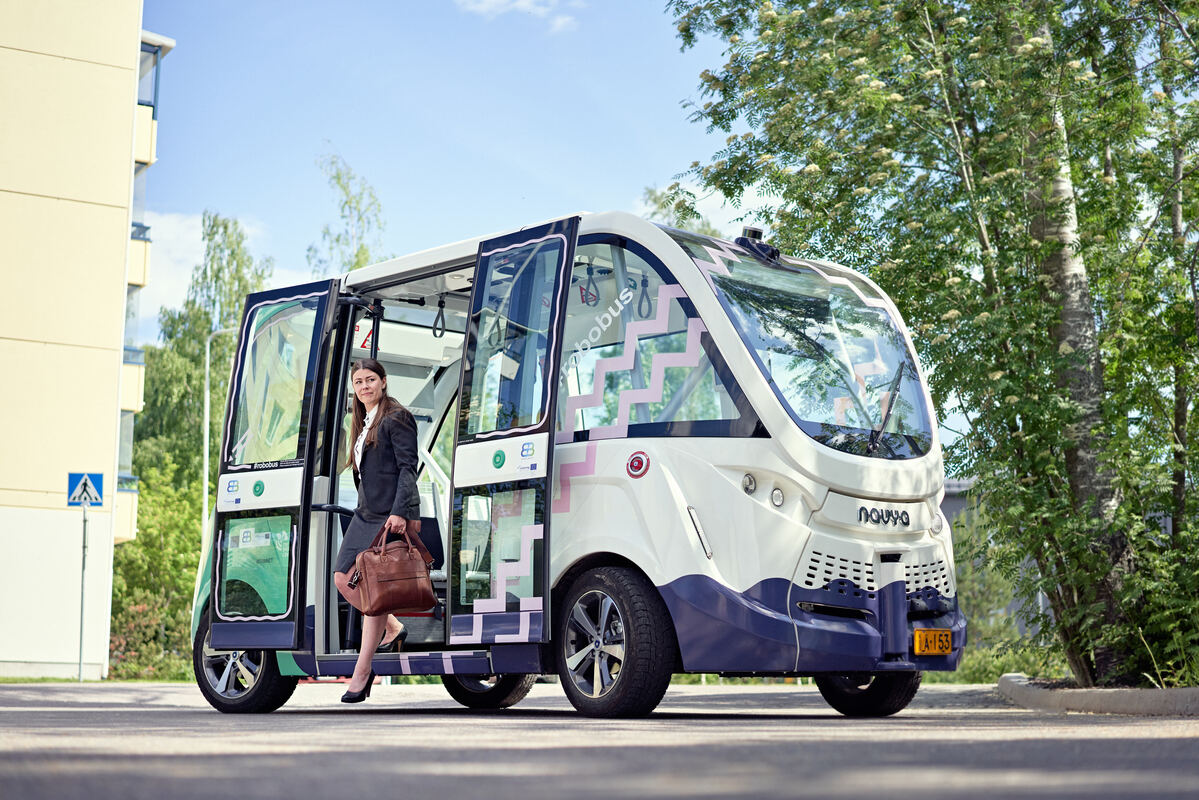 Date and time
26–27 September 2023
Location
Finland Pavilion 1243, Austin Convention Centre, Texas, USA
Driving smart mobility solutions FORWARD
As the world around us is constantly evolving, the future mobility requires innovative solutions. Finland, the happiest country in the world, may not come first to mind when thinking about the traditional automotive industry, but four megatrends in technology have brought this Nordic country to the forefront in reshaping the mobility industry: connectivity, autonomous driving, shared services and electromobility.
The naturally problem-solving and collaborative Finns are on the driving edge of new product development. They have created solutions based on IoT, AI and 5/6G networks for many applications, bringing happiness to the automotive and mobility industries. What's more, the companies operating in the Finnish automotive and mobility cluster have the experience, expertise and vision to reshape our thinking about the way we see mobility.
At the Finland Pavilion, you'll discover more about Finland's business environment and the specific smart technologies for the automotive and mobility industries, and how they can support drive your vision forward, from start to Finnish.
So, are you ready to meet happiness?
Companies and regions at the Finland Pavilion:
Business Finland is the Finnish government organization for innovation funding and trade, investment and travel promotion and talent attraction. Business Finland's over 760 experts work in 37 offices globally and in 16 regional offices around Finland. Business Finland is part of the Team Finland network.
Invest in Finland helps foreign companies identify business opportunities in Finland, produces information on Finland as an investment destination, and enhances and coordinates national efforts to attract investment by actively networking with regional and international entities. Invest in Finland also collects and updates information about foreign-owned companies in Finland. Invest in Finland is part of Business Finland.
City of Vantaa is the logistics hub of Finland, and an excellent location for companies that need easy access to points international. Businesses in Vantaa are between 10 and 30 minutes from the Helsinki International Airport, Helsinki Harbor, as well as the key railway station of the main rail line with its' nationwide connections, and main road. Universities, including Helsinki and Aalto afford a resource of research collaborations and future highly skilled employees and Metropolia University of Applied Sciences has a Smart Mobility focus. They partner with service providers, technology companies, investors and researchers to join in the creation of smarter mobility including trials of new technology and products. Their four main themes of focus are: Healthy and Sustainable Mobility, Laws, regulations and standards of Smart Mobility, Future Experts of Mobility, and Unmanned Aviation. A conference presentation will share details about Aviapolis, Finland's fastest-growing business and working center that is within minutes of Helsinki Airport, offers residential, commercial and industrial locations, and an excellent public transportation balanced by nature and walking/exercising showcasing the city's large investments in expertise and sustainable development. Learn about the genuine cooperation between the city and companies to create a better future for both, and what opportunities are there for your company to either invest in expansion or partner with the companies in the mobility sector.
City of Tampere is the second largest industrial urban area after Helsinki, and the industrial capital of Finland. World-renowned Nokia is headquartered in the region, and Tampere has been voted the most popular city to study and live in. The mobility sector is extremely important to the region, as Tampere has three ecosystems directly relevant: an automotive cluster developing and offering intelligent solutions for the automotive, and AI ecosystem, and intelligent machines ecosystem that includes the largest concentration of mobile intelligent machinery in Europe. Kempower, manfucturing electric charging infrastructure sold worldwide, with a new U.S. plant to open next year, has established a R&D Center at the University of Tampere. A Finnish battery manufacturer providing batteries worldwide is making a multimillion Euro investment in a battery plant in Tampere that includes an Engineering and Development Center. Tampere has world-class expertise in the battery industry and the Tampere region is spurring the transition to electrification for industrial businesses, an integral element of these businesses growth and corporate responsibility strategies. Tampere will present on Metaverse and Mobility during the conference.
City of Oulu, located on the northwest coast of Finland and considered the capital of Northern Scandinavia, has the basis of 30 years of technology success stories. The Oulu ecosystem covers the creation of wireless products and systems, from the design phase right up to production. Processes are carried out in a uniquely rapid and productive fashion, and global ICT players continue to make strategic investments in Oulu. The city and region are a strong R&D community of several global companies. Oulu presents a desirable location to develop hi-tech-based products from an idea to a complete product for the global market and for companies and consumer-clients to use. Oulu ecosystem has established itself as the hot bed of wireless technologies. Its available pool of skilled workforce trained by world class companies and educated by the University of Oulu and Oulu University of Applied Sciences, has attracted many companies to invest and build their business on Oulu's wireless roots that includes an automotive sector cluster. The OuluZone is a test site for autonomous robots, drone vehicles, and machines, and construction technology and automation. The 5G Test Network offers opportunities for testing 5G technology, components and services in real time, and the Diversified 5G and AI provides testing opportunities for these technologies and components in real time as well.
More information and inqueries
Senior Advisor, Invest in Finland
Nancy Najarian
nancy.najarian (at) businessfinland.fi
+1 202 500 0360
Senior Advisor, Business Finland
Fikriye Selen-Okatan
fikriye.selen-okatan (at) businessfinland.fi
+1 646 240 2193