Doubling capacity, AMADA steers their big European push from Finland
AMADA is a Japanese comprehensive manufacturer of metalworking machinery and a long-term friend of Finland. To cap off a business and capital alliance of more than ten years, AMADA fully acquired a Finnish automation solution manufacturer for metalworking machinery company and renamed the company in 2020.
Case study 16.10.2023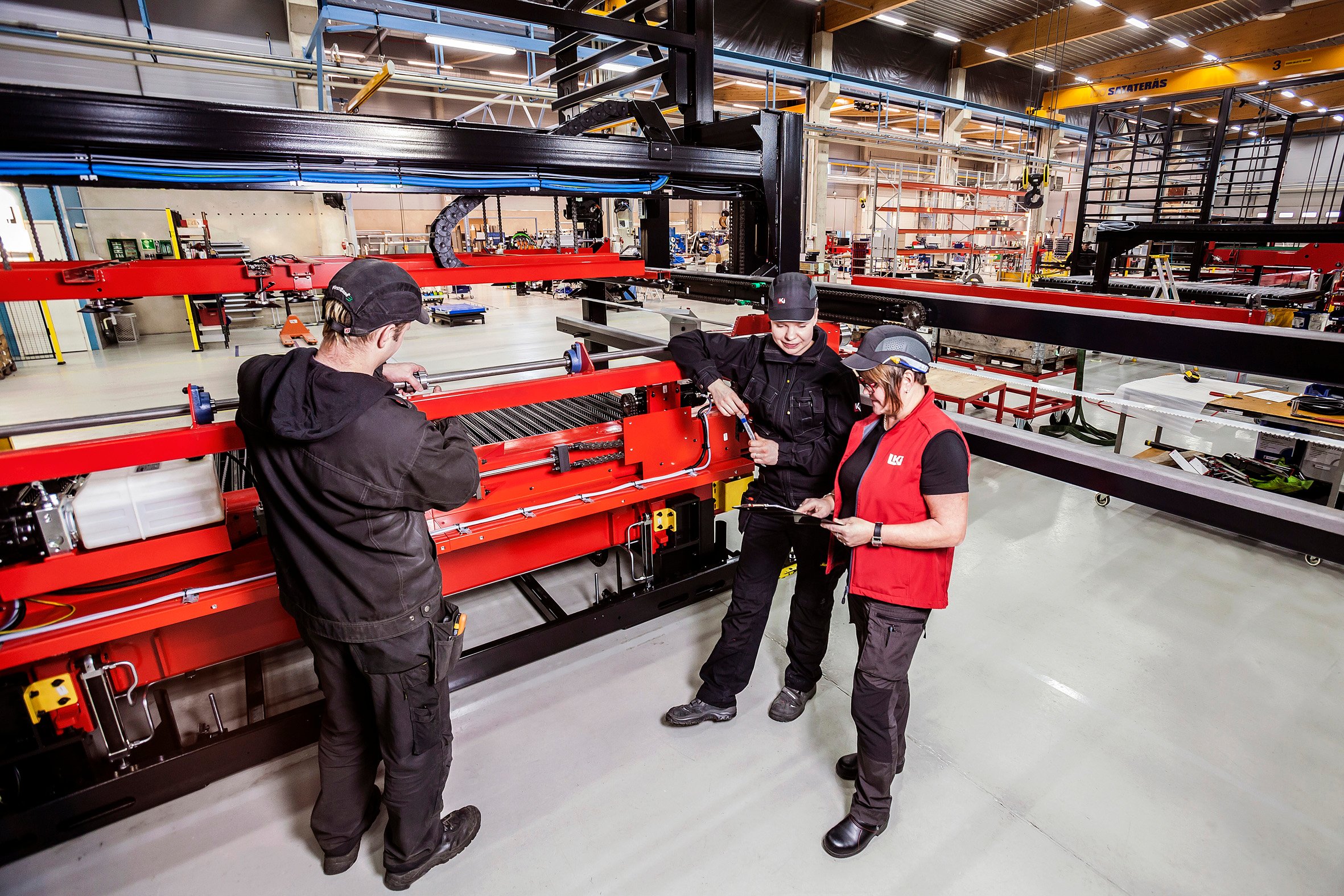 AMADA acquired the Finnish company LKI Kaldman over a decade ago, and renamed the company to AMADA Automation Europe in 2020. The company is located near Jakobstad (Pietarsaari in Finnish), just off the Finnish west coast. Photo credit: AMADA
Recently, to address the growing demand in Europe, Amada decided to almost double the production capacity of AMADA Automation Europe, which leads to 100 new jobs in Finland. The expansion is expected to be completed by 2024.
AMADA is a world-leading manufacturer of high-technology metalworking machinery that is constantly eyeing the future. As the largest European manufacturing facility for automation solutions, AMADA Automation Europe is an important part of the company's operations – as the ambitious expansion plan clearly demonstrates.
Proven excellence
AMADA's warm and fruitful relationship with Finland developed gradually over time. Within a decade or so, AMADA has moved from simply partnering up with LKI Kaldman to acquiring the company and developing the operations with significant scope and reach. Expanding capacity for automation solution in Europe was the target all along – and Finland is the place to do it.
"Right after the acquisition of LKI Käldman in 2020, we were hit by the Corona pandemic and supply chain disruption," explains Hitoshi Takamura, Executive General Manager of Production Operation Division, AMADA Co. Ltd, and Director of AMADA Automation Europe Ltd.
"To overcome these challenges, AMADA Automation Europe demonstrated its inherent agility and flexibility as well as cooperation as AMADA group company," he adds.
Since the Finnish operation proved its mettle in a tight spot, the headquarters back in Japan felt confident enough to give the final' go-ahead' for the expansion plans.
"With the factory expansion, we will hire more people, make the most of the new equipment, and increase the production and supply of the solutions satisfying the customers in Europe," says Takamura.
Building bridges
Invest in Finland and Business Finland have helped AMADA to get more acquainted with Finland, says Eiji Atsumi from Business Finland.
"Business Finland has provided perspectives on, for example, Finnish corporate culture, work and management style, and business-friendly public sector to increase AMADA's level of confidence toward a post-merger integration and capacity expansion," explains Atsumi.
AMADA is certainly making a big push is Europe with its doubling of the production capability of the automation equipment for sheet metal cutting machines by 2024. The company's solution will automate the feeding of the sheet metals to the cutting machine and also the sorting of the cut metals according to the materials, which enable long-term continuous operation of the sheet metal cutting process.
It appears that trends and timing are favoring AMADA: due to increased pressure to reduce personnel working hours, automation needs are growing all over Europe. Right now, 50% of AMADA's sheet metal cutting machines is already sold in combination with appropriate automation equipment – but the company wants to push that figure beyond 60%.
The right momentum
At the same time, the demand for sheet metal processing machines, e.g. fiber laser processing machines, is going up globally. The automation needs with regards to sheet metal processing machines involve feeding and sorting at pre and post of the metal cutting process – and this is starting to be a default requirement around Europe to pursue increased productivity and sustainable work-life balance. To cope with the growing demand and evolving needs in Europe, AMADA boosts its production capacity of automation equipment in Finland as well as the sheet metal processing machine capacity in France.
AMADA's target sales in Europe number 7.3 billion EUR in the fiscal year 2030. If the company stays true to the course, this figure represents a 67% jump from the result of the fiscal year 2022.
Senior Advisor Eiji Atsumi