Reimagining sustainable textiles
Making sustainable fibre from wood to disrupt the entire textile industry? World's largest wood pulp producer Suzano found something real special in Finland. Buckle up for future!
Case study 18.3.2021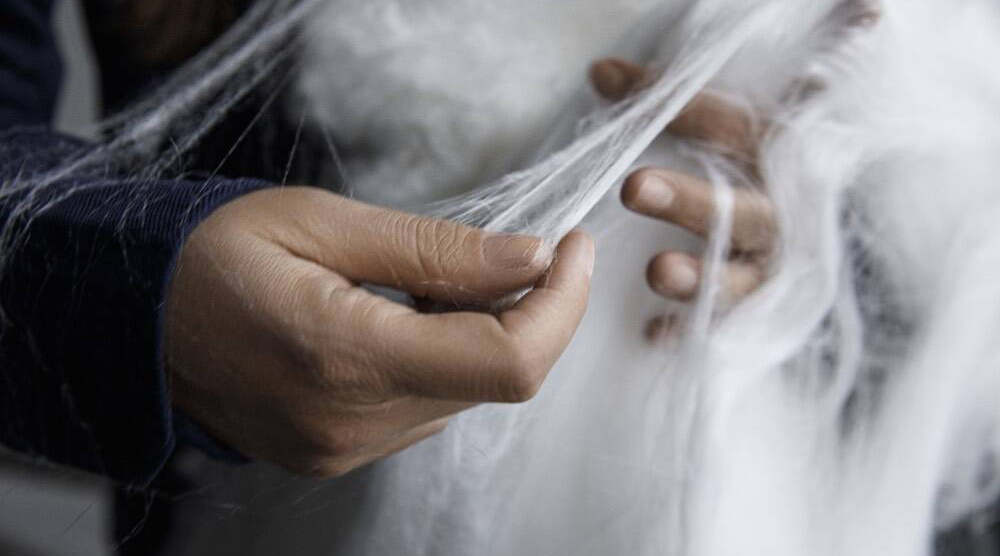 The news went out in late February: Finnish material innovation company Spinnova and the world's largest wood pulp producer Suzano will make an estimated 22 million euro core investment to build the first commercial scale SPINNOVA® production facility in Finland.
The new, industrial scale production unit will be located in Jyväskylä, Finland, home of Spinnova's R&D hub and pilot facility. Production will be managed and operated by a new joint venture company owned 50/50 by Spinnova and their partner and investor, Suzano.
What type of an industry game-changer are we talking about here, then? Well, the total investment, including all needed infrastructure such as real estate, is estimated to be some 50 million euros. If everything goes according to plan, Spinnova's sustainable fibre, created out of wood (and, later on, from also waste) without dissolving or use of any harmful chemicals, will be available for global textile brands in 2022.
It's this deep-green approach that holds the most potential in the collaboration, since most leading apparel brands are committed to becoming climate neutral or even climate positive. As Spinnova materials' cradle-to-gate emissions are considerably less than those of cotton, we're talking about a radical improvement to existing textile fibres. After all, Spinnova's fibre already works well in blends with other natural fibres, especially cotton – meaning that in big volumes, Spinnova blends alone can have a huge positive environmental impact.
Green Engine for Growth
Vinicius Nonino, Executive Director, New Business at Suzano A/S, says that the investment should be considered as a "platform for knowledge and development" that will leverage the growth expected for the coming years. According to Nonino, Suzano wanted to be close to Spinnova research center, including its pilot mill, in order to accelerate its expertise and the interaction between the two companies.
"This is also a way to reduce the time-to-market of this disruptive solution. In addition, Finland is a very important location for bioproducts' development and it is Suzano's intention to deepen its presence in the region in order to identify new opportunities," he says, adding that Suzano already has solid relationships with other partners in the region, such as Valmet.
But how did the groundbreaking collaboration get started in the first place? Suzano first approached Spinnova as part of its effort to develop applications for its Micro Fibrillated Cellulose (MFC) in 2017. Fernando Bertolucci, Suzano's Innovation Executive Officer, explains that at this time, Suzano was advancing its MFC developments and building its pilot plant in its Aracruz site.
"Spinnova business model was evaluated by us and we understood we had a tremendous opportunity ahead of us to diversify markets for our fibre, and, at the same time, provide society with a disruptive solution in the textile industry," he says.
Initially, Suzano acquired 18% of Spinnova (presently, the company holds 23%) and established a Joint Development Agreement with it. Bertolucci points out that the basic objective of this JDA was to improve properties of Suzano's MFC and its usage in the Spinnova process to achieve textile fibre quality equivalent to competitive fibres, such as cotton and viscose.
"After two years of working on this project, during 2020 we finally achieved this goal, and as a consequence, this triggered the formation of the global joint venture with Spinnova, to produce staple fibre from wood based raw materials," adds Vinicius Nonino.
Matti Landin, Trade Commissioner for Business Finland Brazil, fully credits Suzano for having the progressive mindset to seek new, green innovations. For years, Business Finland has been involved in finding ways for Suzano to collaborate with Finnish companies in the new biobusiness arena, but also in new forest, pulp and paper technology.
"We had served as facilitators – in an advisory capacity – for a long time even before this new joint venture. It is tremendous to see Suzano really establish a strong presence in Finland," says Landin.
Top Brands Taking Notice
Spinnova's CEO and co-founder Janne Poranen points out that the joint venture makes a lot of business sense, since every leading textile brand is now looking for ways to minimize their emissions and ecological footprint. Construction of a circular material foundation for one's products seems to be a priority for all the major brands right now.
"We will soon be able to provide brands with the new, disruptively sustainable fibre and fabrics that they need," Poranen says, adding that this joint venture is a "significant step" on a national level as well as for Spinnova.
"We have a lot of great textile material innovation in Finland, and we are the first one to set up a commercial factory in Finland. We are also hoping our commitment speeds developments in the textile supply chain that has, for a few decades, been missing from our country almost altogether," Poranen says, pointing out that the joint venture would be eager to work with domestic, big industrial spinners and fabric makers.
Already, Spinnova materials have been developed in collaboration with leading fashion brands such as Danish clothing company Bestseller, Finnish fashion house Marimekko, and Norwegian outdoor brand Bergans. Swedish H&M Group joined this "green team" in March, citing its ambition to become fully circular as a key motivation.
Ecosystem Edge
Rounding up big brands and corralling innovation leads, inevitably, to the bulking up of the local ecosystem. Senior Advisor Helvi Väisänen from Business Finland points out that ecosystems thrive because the groundwork has been properly laid – in the case of the emerging green textile industry, there has been involvement from universities, research institutes, Business Finland and various commercial players to build the national ecosystem.
Spinnova and Suzano are now taking that ecosystem one step further and one level higher.
"This joint venture represents a real textile revolution where an innovative, research-based startup pivots towards significant scalability. The investment benefits the entire textile ecosystem and the ecosystem, in turns, boosts Spinnova and Suzano," Väisänen believes.
For more information Matti Landin