Slush startup event, or rather a festival, gathered top int'l media
Slush 2022 (November 17-18) welcomed visitors to "The Break of Dawn". Light might be scarce in November in Finland, but the atmosphere at Slush was certainly energetic and festival-like as if a new era would be starting and shaping the future for the better. According to the largest Finnish daily newspaper Helsingin Sanomat, Slush 2022 might have been the best Slush ever.
Blog 25.11.2022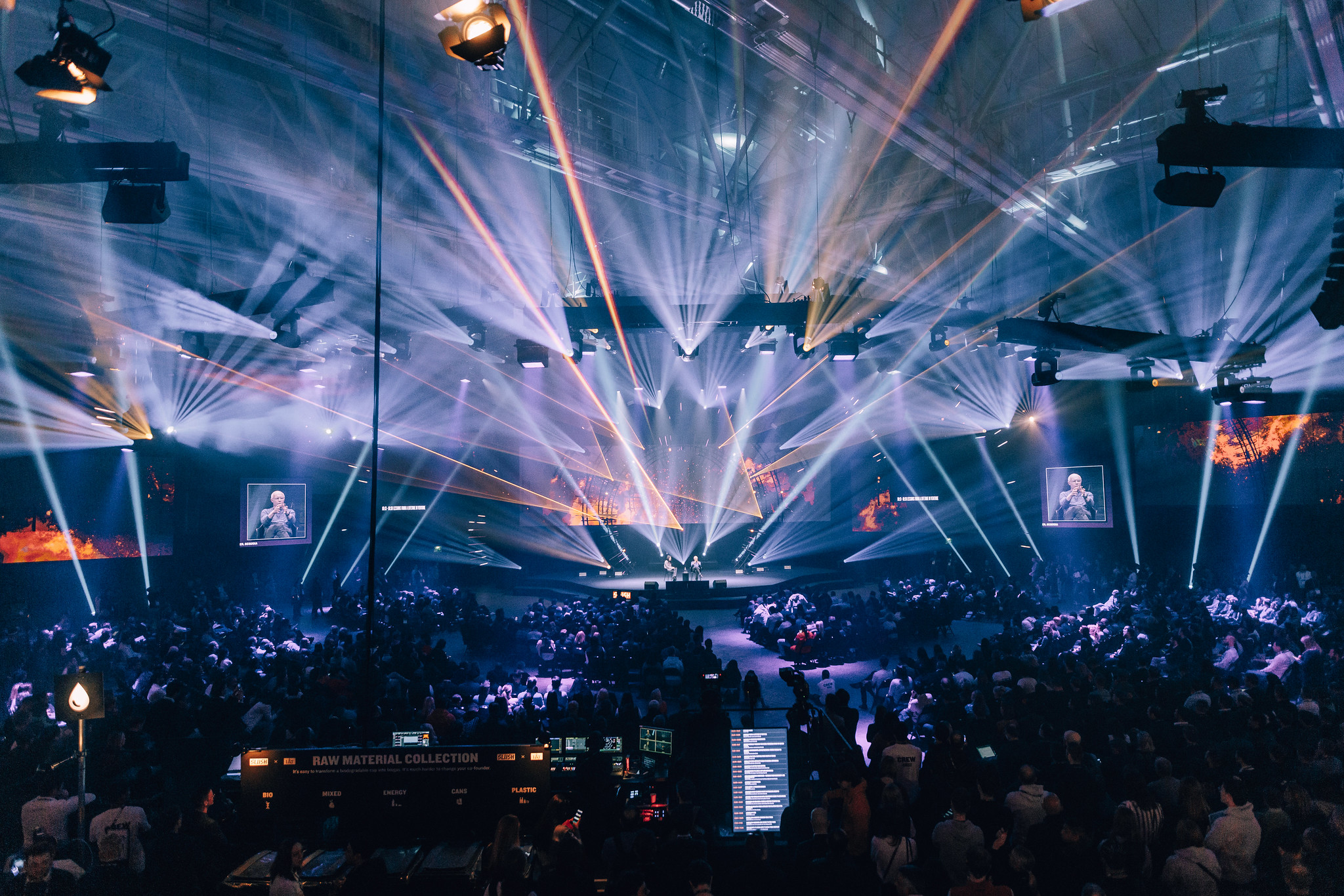 Business Finland invited top international media to join Slush and to meet with rising Finnish startups. In the group, there were journalists and freelancers writing e.g. to the following media: BBC (UK), Guardian (UK), TechRadar Pro (UK), Business Leader (UK), Yahoo! News Japan (JP), Handelsblatt (DE), t3n (DE), L'ADN (FR), Be a Boss (FR), Les Echos (FR), Le Monde Informatique (FR), Expansión (ES) and This Week in startups podcast (US).
The tech journalists were greeted with sudden change of weather and a breeze from the north, which only ramped up the theme of the trip. The media was introduced to several Finnish startups in different fields, such as IQM, the leading quantum computing hardware company and key player in Europe's vibrant quantum ecosystem, Onego, a foodtech company creating egg white without chickens and sustainable bio-based textile company Spinnova and its collaboration with Marimekko. The journalists were also presented pitches from rising energy startup companies to address the Europe's energy crisis, which is speeding up the green transition.
The journalists also heard the secrets and insights behind Why is Finland a technology superpower and an innovation leader as well as one of the fastest growing startup regions in the world. One special feature for the success of the Finnish startup scene can be traced to the thriving collaboration between the state, startups, companies, and the highly ranked universities. That is often a fact that many international media get curious about. Today, there is almost a hyper-collaborative spirit on the startup scene, where ideas and technologies are openly shared from university labs and research centers to startups and corporations.
Slush 2022 gathered 12,000 people from over 100 countries at the Helsinki Expo and Convention Center. 4,600 of them were startup founders and operators, 2,600 investors and 400 media representatives. As Mikko Mäntylä, the president of Slush, said, it is not important how many come, but who are the people that come. All participants had to apply to the event. According to Eerika Savolainen, CEO of Slush, there were 50 % more investors than in any previous Slush making it the largest gathering of venture capital in Europe, but perhaps on the whole planet.
One of the highlight speakers was the PMI of Finland Sanna Marin interviewed by Savolainen. As Marin has been in headlines in media globally, international media representatives were rather familiar with her beforehand. Marin had bold statements about the need to invest in innovations and digital capabilities within Europe not to make the same mistake that was made with energy. According to Marin, Finland and the whole of Europe must make sure that Europe is technologically independent, and more resources is needed to research and innovation, especially related to artificial intelligence, quantum technology and other new technologies.
The atmosphere at Slush was enthusiastic and forward-looking. Slush brought the global startup ecosystem under one roof. Slush has grown from a 300-person assembly to a community of true global magnitude. The mission of Slush remains the same: to create and help the next generation of groundbreaking entrepreneurs.
The journalists were also introduced to experience the very Finnish tradition of sauna. After the heat, the bravest ones also dipped in the dark and cold Baltic Sea – and there were in fact quite a few of them in the water.
Over the weekend when Slush was already over and everybody heading back to home countries, it started snowing in Helsinki. It put a nice icing on the cake.
Have a look what the media got most interested in during the trip
t3n (DE)
Sanna Marin über mehr Kooperation in Europa: "Wir dürfen Fehler nicht wiederholen", 17.11.22
Erst Morddrohungen, dann Annulierung: Immigrams Slush-100-Gewinn wird widerrufen, 21.11.22
Twitter: Droht der komplette Zusammenbruch der Plattform 21.11.22
Handelsblatt (DE)
Diese deutschen Start-ups sind besonders vielversprechend, 18.11.22

Business Leader (UK)
Could Europe win the global race for innovation? Business Leader attends Slush 2022, 17.11.22
Final day of Slush 2022 highlights importance of embracing feedback and getting culture down when growing a business, 18.11.22
Les Echos (FR)
A Slush, la Commission européenne veut créer un terreau fertile aux deeptechs, 17.11.22
À Slush, les start-up finlandaises à l'avant-garde de l'impact, 23.11.22
Reface, la start-up ukrainienne qui a fait sensation à Slush, 24.11.22
TechRadad Pro (UK)
Quantum computers give data center accelerators and HPC a leg up for R&D in Finland, 19.11.
Le Monde Informatique (FR)
Slush 2022 : les start-ups qui bravaient le froid, 18.11.22
Slush 2022 : « La majorité des start-ups ukrainiennes n'ont pas fermé leurs portes » 23.11.22
Slush 2022 : IQM promeut un accélérateur quantique pour datacenter, 21.11.22
L'ADN (FR)
Leadership : Sanna Marin, la Première ministre finlandaise, prouve qu'on peut être efficace sans être toxique, 22.11.22

Be a Boss (FR)
Helsinki veut devenir une référence de la tech, 28.11.22
Slush 2022 : l'un des plus grand événement start-up Mondial, 4.11.2022

Asaki Abumi, a Japanese freelancer
Radio interview to Radio J-Wave (JP) 21.11.22
Yahoo! News Japan. Article on How "Ok to fail" culture has taken root in Finland and about young volunteers and Nokia. 25.11.22
Yahoo! News Japan. Article about sauna, nature, education, episode of Marimekko and Spinnova. 26.11.22
Sakigake Shimpo (JP), 28.11.22: Print article about Slush, how Finland has become startups-country, a comment from Japanese startup, Xcura, that "Slush is like a Disneyland", local startups from Japan were also there, Antti Salminen explains about nature, forests and sauna 28.11.22
Expansión (ES)
Print article: Cómo inventir en un país de 'deep tech' y unicornos, 28.11.22​

Foto credits: Slush 2022 / Petri Anttila